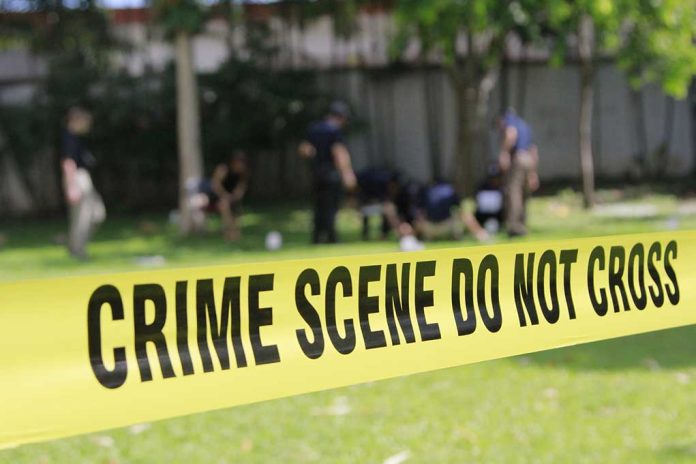 (NewsSpace.com) – When a pet goes missing, it can be devastating. Most people will do whatever they can to find their dog or cat, including canvassing the neighborhood and putting up fliers. One 70-year-old Florida woman is now facing multiple charges after police say she killed her husband in the process of searching for her lost dog.
Sally Gore and her husband, Gregory Gore, had returned from a night out at dinner to find their front gate open. Upon a quick search, they noticed their dog was missing. The pair agreed to split up; Sally would drive around the neighborhood, while Gregory would remain on foot. The situation went tragically wrong a short time later.
According to reports, when Sally reversed out of the driveway, she ran over her husband and didn't stop. Neighbors noticed the elderly man laying on the ground, bleeding from the head, and called 911. When officers and paramedics arrived on scene, they declared him dead.
Video footage shows the woman driving around her neighborhood, calling out for her dog. Sally soon returned home, and police noticed that she was unsteady on her feet, slurring her words, and her breath smelled heavily of alcohol.
Authorities also examined her vehicle, a Honda Ridgeline SUV, and saw damage consistent with running someone over, though she says she didn't notice any impact. The husband's injuries were also consistent with someone having hit him with the edge of the vehicle and then backing over him.
After failing multiple field sobriety tests, Gore eventually took a breathalyzer test that revealed her blood alcohol content to be 0.12%, 0.04% over the legal limit. Authorities then booked the elderly woman into custody. She was charged with misdemeanor drunken driving and felony DUI manslaughter. She bailed out of jail on a $5,500 bond and is prohibited from drinking.
Gore is due to appear back in court on November 21.
Copyright 2023, NewsSpace.com