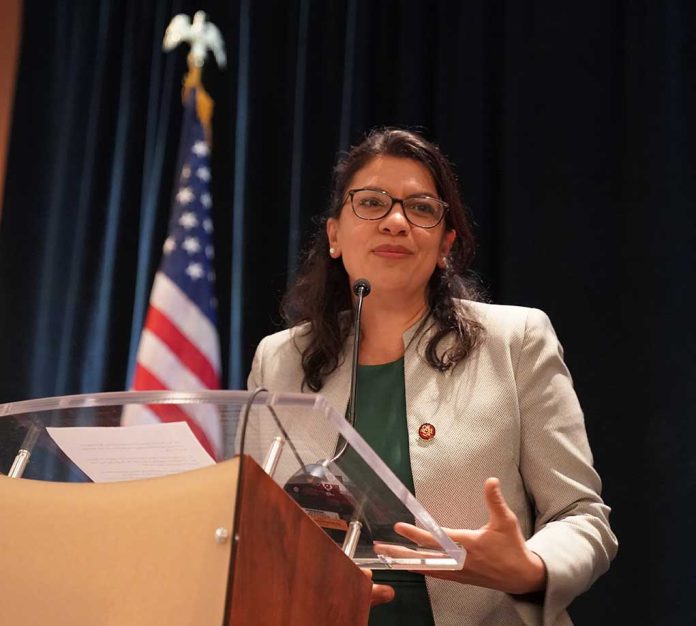 (NewsSpace.com) – The Israel-Hamas war has done more than just spark tensions between countries; it's causing a divide between lawmakers as well. In Congress, several outspoken Progressive members are calling for President Joe Biden to do more for Palestinians trapped in Gaza, including pushing for a ceasefire. One GOP representative introduced a resolution to censure one of her Democratic counterparts, but it failed when her party voted against it.
On Wednesday, Rep. Marjorie Taylor Greene (R-GA) introduced a resolution to censure Rep. Rashida Tlaib (D-MI), accusing her of leading an insurrection. The incident stems from a pro-Palestinian demonstration that took place on October 18 in the Cannon House office building. Greene says the protestors engaged in "antisemitic activity, sympathizing with terrorist organizations."
When a House member introduces a resolution, members have to vote in a procedural motion before it can reach the House floor. That effort failed as 23 GOP members joined Democrats in a 222-186 vote to table the motion. Naturally, Greene was a little incensed at the outcome, taking to X, formerly Twitter, to make her displeasure known. She called out all of the Republicans who voted against bringing the measure to the floor, calling them "feckless" and "pathetic."
Rep. Chip Roy (R-TX), who voted to table the motion, said Tlaib's actions are "worthy of condemnation, if not censure," but disagrees with the language in Greene's resolution. He accused the Georgia representative of making "legally and factually unverified claims," pointing to how the word "insurrection" was abused following the events of January 6, 2021, and refusing to add to it.
The Israel-Hamas war has been ongoing since the militant group launched a surprise attack on October 7. There is seemingly no end in sight as both sides refuse to agree to a ceasefire, though President Joe Biden is calling for a humanitarian "pause" in the war to get the hostages out and bring in much-needed aid to Gaza.
Copyright 2023, NewsSpace.com