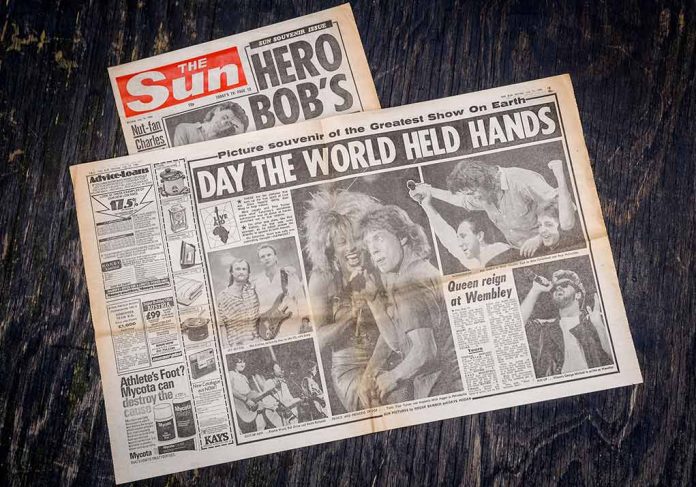 (NewsSpace.com) – In 1985, several popular bands and singers got together and put on the Live Aid Concert, one of the most popular of all time. It was organized by Midge Ure and Bob Geldof, who founded Band Aid, a charity supergroup, with the hopes of raising money to address famine in Ethiopia. All in all, the benefit reached over a billion people and raised $127 million. Now, it's slated to become a stage musical.
The musical, titled "Just For One Day," is the brainchild of John O'Farrell and Luke Sheppard. The duo approached Geldof, explaining that their fathers always recalled the concert and how powerful it was. While the founder wasn't originally thrilled by the idea, he agreed to attend workshops along with Band Aid trustees and said he was "blown away" by what he saw.
The musical will feature music from many of the biggest names of that era, including Queen, Paul McCartney, Sting, Elton John, and U2. Make no mistake about it, though; there will be no actors playing singers. Geldof is firmly against that, saying there won't be anyone "dressed up as Freddie wearing a crap mustache."
Instead, the presentation is more a live-action telling of how Live Aid and Band Aid worked together to create one of the most memorable concerts of all time and the story behind it all. There will be "actual testimony from the day" and "real people telling their story throughout this," a method that Geldof says is "complex theater." He's even happy with the actor, Craige Els, who has performed in many British shows, representing him in the production.
For those who want to see it live, the musical is set to take place in London next year, from January 26 to March 30 at London's Old Vic Theatre. Ten percent of each ticket sale goes to the Band Aid Charitable Trust, which allowed the musical to be made.
Copyright 2023, NewsSpace.com