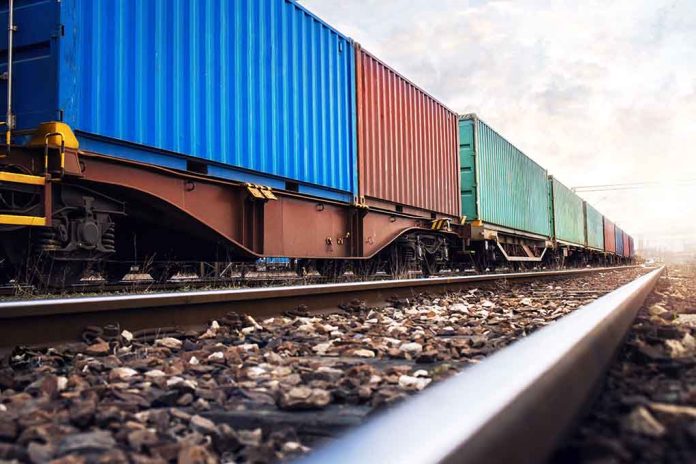 (NewsSpace.com) – In August, while carrying out a test run for employee appreciation day, CSX workers in Ohio experienced a panicked moment when the train derailed temporarily before righting itself. When they inspected the tracks, they found materials that had been seemingly purposely placed with the intention of causing an accident. That led to a lengthy investigation and the subsequent arrest of a Cleveland, Ohio, man.
Suspect Arrested
The FBI arrested 43-year-old Joseph Findley on October 6, charging him with terrorist attacks against railroad carriers. According to News 5 Cleveland, which viewed the court documents, Findley is accused of jamming devices into the track, which is used as an Amtrak commuter line, at least five times between August and October. This practice is reportedly taught by terrorist groups.
The FBI was initially notified two days after the first incident, which occurred on August 12, and the bureau immediately began investigating. Throughout the next few months, as more incidents occurred where metal ties and spikes were placed along the tracks, Dominion Energy helped provide surveillance videos to capture footage of the suspect. Finally, the efforts proved fruitful when they got a clear image in September, and a market employee nearby was able to identify Findley as the man in the photo.
The agency then carried out a search warrant on his home on October 6 and found evidence that led to his arrest. While he admitted to being the person in the footage and to placing spikes on the tracks, he denied that he placed any other materials in the tracks or attempted to derail a train.
About the Suspect
During the process of investigating, authorities learned a bit about Findley, including that he lives with his parents in the neighborhood where the train track is. Those who are familiar with him said he "is known to drink heavily."
His mother spoke with Fox 8, saying Findley is "no terrorist" and someone is "making that up." She said he's "depressed because he lost his job, he lost his girlfriend," but "he's not a terrorist." She is accusing people of exaggerating the incidents, saying "he never did anything bad' in his life.
The incident involving the test run resulted in $10,000 worth of damage, and the company ended up having to change the route it used for the Family Days ride. Findley was arrested and held without bond until his court appearance. He is being represented by assistant public defender Ashlynn Mejia.
Copyright 2023, NewsSpace.com