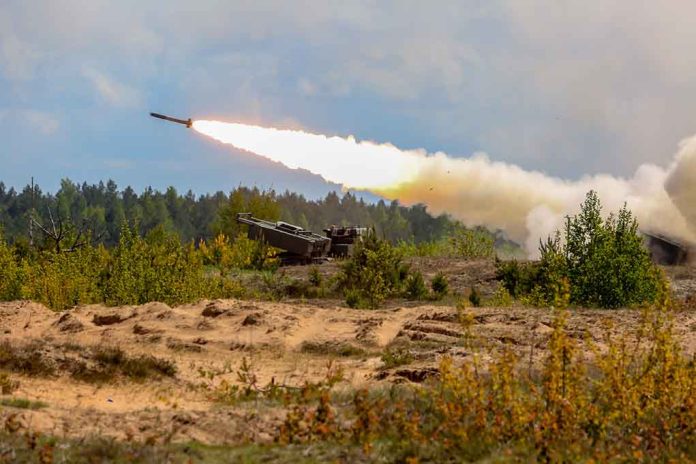 (NewsSpace.com) – Since Russia invaded Ukraine in February 2022, both sides have volleyed attacks at each other, killing thousands of troops and civilians alike. In some instances, parties have even switched sides in a turncoat move. That's exactly what Ukraine is accusing two men of doing and it's now calling for justice.
Two Brothers Help Carry Out Attack
In a statement released on October 11, the Security Service of Ukraine (SBU) accused two brothers — 23-year-old Dmytro Mamon and 30-year-old Volodymyr Mamon — of helping to plan out a missile attack on a cafe in Kharkiv's village of Hroza. As a result of the attack, which took place on a day when many gathered for a reburial of a "fallen Ukrainain defender," at least 55 people died, including an 8-year-old.
The brothers are accused of having fled to Russia when Ukraine liberated the Kharkiv region and using their connections there to engage in "friendly conversations and correspondence" while seeking information about mass events and Defense Forces deployments in the area. They then used this information to help "carry out a targeted attack … using the Iskander M operational-tactical missile complex."
Siblings Face Charges
As a result of their actions, the two brothers are now facing numerous charges in Ukraine. These include treason committed under martial law by a prior conspiracy by a group of persons, assistance in the commission of violations of the laws and customs of war, and intentional murder.
The SBU noted that the brothers, who they refer to as "Rashists," a term for Russian troops that combines Russian, racist, and fascist into a single word, are hiding in the invading country. However, the security force noted that "comprehensive measures are underway" to find and punish them. To aid in the efforts of bringing Volodymyr and Dmytro Mamon to justice, the SBU has released several photos of the two along with messages they exchanged on Telegram, revealing their part in the attack.
In a statement, Ukrainian President Volodymyr Zelenskyy said that "everyone who helps circumvent sanctions are criminals" and "those who continue to support Russia are all supporting evil."
War Rages On
The war in Ukraine is continuing to rage on. Defending forces are trying to hold off aggressors from taking hold of Avdiivka. Russia has continued launching attacks, in addition to the one in Kharkiv, having recently struck the eastern city of Pokrovsk. The West continues to support Ukraine through the battle, though there has been talk of using some Russian assets to fund the country's defense as well.
Copyright 2023, NewsSpace.com