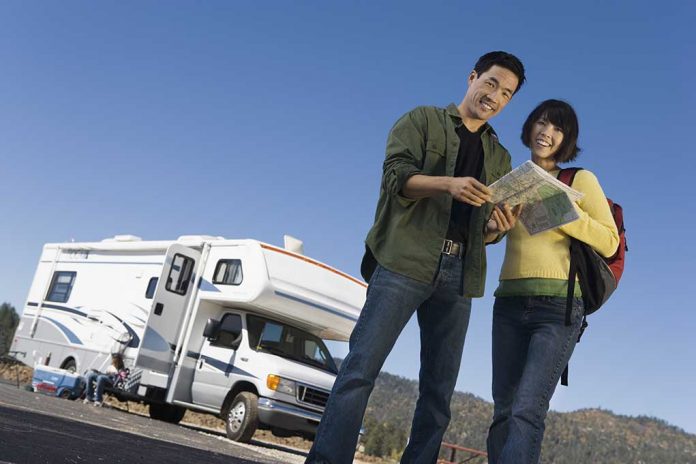 (NewsSpace.com) – The United States is a huge country. You could spend years exploring it, especially if you're traveling by car. That makes it especially tough to know where to begin if you're planning a road trip. One of the best methods is to take a look at what each region has to offer.
Five Regions
People divide the US in many ways: by state, by closeness to major cities, or even as per distance from either coast. But it's far more common to separate areas into these five distinct regions:
Northeast
Midwest
Southeast
Southwest
West
Here's what each of these areas has to offer.
Northeast
The northeast region is full of incredible historical cities. It's the location of the first English settlements and holds the honor of being home to the beginning of the country.
On a road trip in this region, you should schedule a stop at the nation's capital: Washington, DC. The city is full of attractions that tell the story of America and how it was born. It's also home to the President of the United States, Congress, the White House, and numerous monuments to our greatest leaders. As an added perk, you can visit many museums for free.
Boston is another must-see metropolis. Bean Town is home to the first public school and library. Many of the original cobblestone streets within the city have been in place since the time of the Puritans. You'll find plenty of historic sites to explore, including the Paul Revere House.
Pennsylvania also makes a delightful stopover. First, there's Philadelphia — the first US capital. You'll also discover deeply historic locations, such as Independence Hall and Gettysburg. Both will allow you to learn much about the civil war.
Midwest
The midwest is America's heartland. Here, you'll find rolling fields of corn, wheat, and soybeans. You'll also see plenty of cows grazing and horses in pastures.
This region covers a large area that includes the Great Lakes and the Plains. It's also the birthplace of the Oregon Trail, which leaves plenty of opportunity for exploring pioneer times and how those who came first lived their lives.
Moving on to Ohio, the next interesting stop is Union Terminal. Located in Cincinnati, this important symbol of the country's transportation history includes various attractions, such as the Duke Energy Children's Museum.
Illinois, the birthplace of Abraham Lincoln, is next. You'll want to stop in at the Abraham Lincoln Presidential Library and Museum. Exhibits showcase the life he and his wife lived. The museum also holds the actual seat he sat in on his fateful trip to the Ford Theatre.
In Kansas, let exploration take you to Boot Hill. It offers a look back to the late 1800s and early 1900s during a time filled with explosive growth and westward migration throughout the country. It's like stepping back in time to the Wild West.
Of course, you shouldn't miss Mount Rushmore in South Dakota, either. Take some time to explore the Presidential Trail and the visitor's center while you're there. Make sure to capture pictures of the mountainside sculpture if you arrive on a clear day.
Southeast
The southeast is heavy on Civil War-era attractions and sites. It's also home to several of the original 13 colonies. Those who like it warm will be pleased to know that this region generally has decent weather year-round, making it an ideal spot for off-season travel.
Your trail begins in Virginia in Colonial Williamsburg. The whole city is frozen in time with a range of activities to see and do — including ghost tours. While you're there, make a stop at Arlington National Cemetery and visit the graves of various important historical figures. Or, pay your respects at the Tomb of the Unknown Soldier.
One last stop in the state is Appomattox Court House. This is the spot where the Civil War finally came to an end.
Charleston, South Carolina, is another fantastic stop for history buffs. Of special note is Fort Sumter, the spot where the Civil War began. There are also plenty of museums to explore where you can learn about Southern society before and after the war.
Savannah, Georgia, also offers a peek back in time. The city is incredibly popular for ghost tours and features amazing architecture, such as the Cathedral of St. John.
Southwest
Full of desert landscapes and plenty of beautiful natural wonders, the southwest is where the earliest settlements by foreign explorers occurred. It's an area rich in Native American history.
In Texas, you will find historic spots, such as the Alamo, along with the Spanish Missions from that same time period. They also have a connection to Native Americans. Texas's large cities, including Dallas, also make it easy to access amenities or indulge in a little luxury while you're on the road.
You might also opt to explore even further back to ancient history in Colorado at Mesa Verde National Park. Here you can see cliff dwellings of prehistoric people. You can also find these in New Mexico at the Gila Cliff Dwellings National Monument.
West
The west is probably best known for its roots in the Gold Rush and the migration of people that naturally followed it. This area is also rich in natural sights and historic spots.
One of the most famous attractions in the west is the Hoover Dam. You'll find this jaw-dropping man-made water barrier in Nevada. It's still an active electricity source, but you can take tours and visit the power plant itself if you're curious about how it works.
The Wild West itself was intense. It left many ghost towns in its wake. These are the stuff of legends, and there are plenty of them left to explore. You can find these seemingly abandoned villages and towns in almost every western state. Some of the best are on the National Register of Historic Places. Top choices include the ghost town in Bodie State Historic Park in California and St. Elmo in Colorado.
California, also known as the Golden State, also is home to the Golden Gate Bridge. This landmark is a must-see on any road trip. It's almost as historically important as the Hoover Dam, both for how it impacted America and how difficult it was to engineer.
Lastly, consider a stopover at the Golden Spike Historic Site, where the first transatlantic railroad began. You'll find it in Utah, complete with regular demonstrations and ceremony reenactments.
Two Recommended Road Trips
If you don't know where to start or what you want to see, that's okay! Here are two road trips that many find popular.
Route 66
Historic Route 66 travels through multiple states. You can begin anywhere along the way and travel west to east or east to west. The most common path starts in Chicago, Illinois, at the corner of Adams St. and Michigan Ave and ends in California at the Santa Monica Pier.
As you travel through Illinois, Missouri, Oklahoma, Texas, New Mexico, Arizona, and California, you will have the chance to see various historical sites, such as the gold mines and the Campbell Hotel. Route 66 also passes by a plethora of museums and modern attractions, such as Giganticus Headicus and the buried Cadillacs in Texas.
Oregon Trail
While you cannot travel the exact trail (much of it has been reclaimed by nature or paved over by man), you can travel the same general path settlers did as they made their way west. You'll start in Missouri and then travel through Kansas, Nebraska, Wyoming, and Idaho. The trail, of course, ends in Oregon. Where you go from there is up to you, just as it was for pioneers.
Keep on the lookout for historical sites, such as Independence Rock. Probably one of the most interesting things is there are segments of the original trail still preserved that you can see as you travel. That means you can quite literally put your feet on the same ground as those who came before you.
The Great American road trip may mean something different to each traveler, and everyone has their own ideas about what they want to see. The good news is you have countless options for planning your next road trip. The attractions and places listed here are only the tip of the iceberg! Get creative, get out there, and discover all America really has to offer.
Copyright 2021, NewsSpace.com